The August ParnassusNext selection is Violet Made of Thorns by Gina Chen. This debut novel is a dark fantasy romance drawn from the story of the Briar King's Bride. Rich imagery and captivating characters fill this story of a kingdom full of danger and intrigue. Thanks to Gina for chatting with Rae Ann Parker, our Director of Children's Books and Events, about the book!
---
Rae Ann Parker: What was your inspiration for Violet Made of Thorns?
Gina Chen: One of the main questions that drove this story was, "What if you were the absolute worst choice to be a fairytale heroine?" Violet doesn't believe in happily ever afters and she isn't interested in saving anyone but herself. So of course, I made her the main character of her own fairy tale. I also wanted to write a genre-aware narrator, and that's very fun to play with in something as archetypical as a fairy tale.
RAP: Your main character, Violet, is many things at once – a seer, a liar, and a friend. Did she come to you all at once or did you discover her as you wrote the story?
GC: There's always some discovery in the process, but her basic personality has always been clear to me. One of the most interesting things that developed over time was her relationship with the king. In the beginning, I only knew it as some kind of business arrangement that was beneficial for both of them. As I drafted, I discovered her complicated feelings about him as her parental figure—that mixture of love, fear, and respect—that drives her to prize his opinion, even when she disagrees.
RAP: Violet's tower is fascinating. It's an important part of her role in the kingdom and also a mystery. What is your favorite thing about the tower?
GC: The tower was one of the first things I came up with and the description of it has pretty much stayed the same since the first draft. I love the visual of this strange piece of nature growing in the middle of the developed city, completely out of place. It survives despite the development, despite the distrust of wild magic, stubborn like some of its Seers. I also love how impractically built it is. There are so many stairs.
RAP: Violet Made of Thorns is the first in a duology. Will any secondary characters (maybe the prince's twin sister) play a bigger role in the second book?
GC: Rather than a bigger role, I would say most characters play a slightly different role. For example, the kingdom is less… festive due to the events of the first book. Fun parties just aren't the same anymore for Camilla (nor for anyone else in the city, for that matter) so the princess is preoccupied with other responsibilities. I will say there is no new major antagonist in the second book, and you will learn more about the one you already know.
RAP: And finally, we ask everyone, what's your favorite thing about indie bookstores?
GC: I love talking with the booksellers! They know books best and it's always nice to chat while picking up the latest releases, whether we're trading recs, book cover opinions, or speculation over an anticipated series. The excitement is contagious!
---
Violet Made of Thorns will be released on July 26, 2022. It is the August selection for ParnassusNext.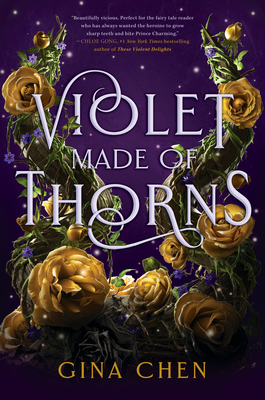 ParnassusNext is the book subscription box for YA lovers. Every member of ParnassusNext receives a first edition hardcover of each month's selected book, signed by the author. There is no membership fee to join — and no line to stand in for the autograph. Not only will you have one of the best YA books of the month when it comes out, you'll have it straight from the author's hands, with an original, authentic signature! Set up a subscription for yourself or buy a gift membership for your favorite YA reader for 3, 6, or 12 months.