With school out, homework on hiatus, and bedtimes more relaxed, now's a good time to stock up on new books to keep the days full and fun. Perfect for a vacation, a blanket on the grass, or just lounging around on the sofa, this month's hand-picked selections offer a little something for new readers, independent readers, and YA fans alike.
Staying local for the summer? Don't miss our weekly storytimes, Saturdays at 10:30 a.m. and Thursdays at 4 p.m.!
PICTURE BOOKS
Recommended by Niki
This picture book is for kids AND parents. It's a funny little parable about the truth and facts — perfect for kiddos who embellish the truth. (Also perfect given the current news cycle.)
FOR INDEPENDENT READERS
Recommended by Katherine
In this heartwarming story, a quirky family embarks on a road trip to attend the funeral of their beloved, yet mysterious, grandfather. I recommend this book to any middle schooler who loves realistic stories about family. Both poignant and funny!
Recommended by Kay
Both classically epic and quietly personal, at once strange and familiar, this book is about a girl who takes a journey to find the beast that changed her life.
Recommended by Chelsea
This middle grade novel has something for every reader — great characters, beauty pageants, and bees! When Flor won the pageant in third grade, her best friend turned her back on her. Now they've teamed up to try to win the pageant again — if they can get over their 'frenemy' status, that is. I especially loved the bee facts that opened every chapter!
YOUNG ADULT
Recommended by Katherine
Two teens are inextricably linked: Eric and Morgan were born at the same hospital on the same day at the same time. Told in glimpses spanning six of their shared birthdays, this novel shows how the pair experience the highs and lows of adolescence over the years as they drift apart, and then inevitably come back together. I loved the unique narrative structure and the way Russo handles issues of gender identity.
Recommended by Chelsea
This debut adventure novel focuses on the journey to restore magic to a land that is suffering without it. Zafira, forced to hide her identity in order to provide food for her family, sets off to meet up with unique company to save the kingdom she calls home. While this is the first of a trilogy, the ending perfectly balances wrapping things up and leaving us wanting more.
Recommended by Kay
This story of magic libraries and demon-summoning sorcerers nails every aspect of a highly entertaining fantasy: action, romance, humor, and heart. I dare you not to fall in love with the main characters by the end.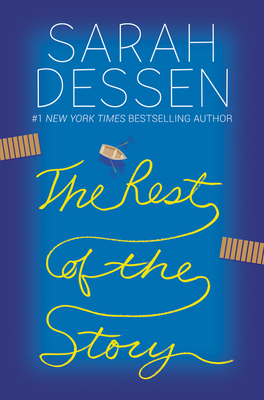 Our June selection is Sarah Dessen's The Rest of the Story, an absolutely perfect way to kick off a great summer of reading! Whether you're a long-time Dessen fan or just discovering her, there's so much to love in this big-hearted story of a girl reconnecting with her family and falling in love for the first time over the course of a sun-drenched, magical summer by the lake.
Publisher's Weekly called it "a rich, patient story about a teen girl who craves family and an understanding of her roots after suffering a tragic loss," and ALA Booklist said it's "exactly where Dessen shines brightest."
All we know is that we couldn't put it down. Enjoy!
ParnassusNext is the book subscription box for YA lovers. Every member of ParnassusNext receives a first edition hardcover of each month's selected book, signed by the author. There is no membership fee to join — and no line to stand in for the autograph. Not only will you have one of the best YA books of the month when it comes out, you'll have it straight from the author's hands, with an original, authentic signature! Set up a subscription for yourself or buy a gift membership for your favorite YA reader for 3, 6, or 12 months.
One for you, two for me . . . that's how book buying goes, right? If you're picking out a good book for the younger reader in your life, don't forget to pick up a few new ones for yourself. Check out some of our staff's latest picks in these recent roundups: 28 New Books That Fit Perfectly In a Beach Bag and Five Memoirs You Won't Be Able to Put Down. Or swing by the store anytime and let us help you pick something perfect.