Who doesn't love a good book about friendship? This month, grab a pal and swing by the store to pick up one of our latest friendship-inspired books, perfect for the tiniest reader in your life. Plus, we've got four new YA reads so good you won't be able to keep them to yourselves. Have a look:
PICTURE BOOKS
Recommended by Chelsea
A beautifully illustrated story about a music-loving dog and his owner. The message of true friendship and relishing joy over jealousy is important for readers of all ages.
Recommended by Rae Ann
One of my favorite picture books is now available in a board book! A friendship story with a twist.
Recommended by Steph
April is National Poetry Month, and what better way to celebrate than by sharing this sweet, beautiful picture book with a young reader! Poetree is a pitch-perfect tale about finding friendship — and poetry — where you least expect it.
YOUNG ADULT
Recommended by Rae Ann
White Rose is based on the true story of teenager Sophie Scholl and the White Rose resistance group in World War II Germany. The story is told masterfully in verse by debut author Kip Wilson.
Recommended by Devin
While the novel is purely speculative, Samira Ahmed takes the rhetoric floated by politicians today and sets her book in a dystopian near future. It's a look at what happens when fearsome language gives way to violent actions, but most importantly, it's about the ones who refuse to fold and choose resistance instead.
Recommended by Steph
I'm so happy that Nashville author Jeff Zentner has finally written a laugh-out-loud comedy — and not just because I didn't want to ugly-cry again (I'M STILL SAD ABOUT TRAVIS, JEFFREY). Do not read this book in public unless you don't mind complete strangers asking you, "What's so funny?"
Recommended by Steph
If you crossed the feminist dystopia of Margaret Atwood with the lush and lyrical prose of Anna Marie McLemore, you might end up with something like We Set the Dark on Fire, a stunningly accomplished debut that kept me turning pages way past my bedtime.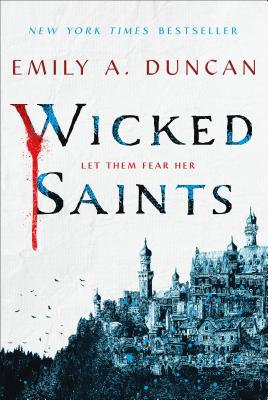 Emily Duncan's debut novel, Wicked Saints, is a thrilling fantasy (perfect for fans of Leigh Bardugo) and one of 2019's most highly anticipated debut novels. Check out some of the early buzz below, and if you're in Nashville, be sure to mark your calendar for April 5, when Emily will be stopping by Parnassus to share and sign her book alongside Christine Lynn Herman, author of The Devouring Gray.
"Full of blood and monsters and magic — this book destroyed me and I adored it. Emily is a wicked storyteller; she's not afraid to hurt her characters or her readers. If you've ever fallen in love with a villain you will fall hard for this book." —Stephanie Garber, New York Times bestselling author of Caraval
"Prepare for a snow frosted, blood drenched fairy tale where the monsters steal your heart and love ends up being the nightmare. Utterly absorbing." —Roshani Chokshi, New York Times bestselling author of The Gilded Wolves
"This is the novel . . . that I've been waiting for all my life. It's got a world at once brutal and beautiful, filled with characters who are wounded, lovable, and ferocious enough to break your heart. A shattering, utterly satisfying read." —Rosamund Hodge, author of Cruel Beauty
Emily will be at Parnassus on Friday, April 5, at 6:30pm! Click here for details.
ParnassusNext is the book subscription box for YA lovers. Every member of ParnassusNext receives a first edition hardcover of each month's selected book, signed by the author. There is no membership fee to join — and no line to stand in for the autograph. Not only will you have one of the best YA books of the month when it comes out, you'll have it straight from the author's hands, with an original, authentic signature! Set up a subscription for yourself or buy a gift membership for your favorite YA reader for 3, 6, or 12 months.
Looking for play date ideas? Bring a friend or make a friend at storytime each Saturday at 10:30 a.m. and Thursday at 4 p.m.!
And don't miss these special events for young readers coming up soon. All events are here at the bookstore unless otherwise noted:
Hannah Carmona Dias, author of Dazzling Travis: A Story About Being Confident & Original — April 6, 2 p.m.
Kerry Madden-Lunsford, author of Ernestine's Milky Way — April 14, 2 p.m.
Salon@615 with Kwame Alexander, author of The Undefeated — April 23, 6:15 p.m.  Click here to reserve your free tickets. (This event will be held at Collins Alumni Auditorium.)
Ann Patchett and Robin Preiss Glasser, author/illustrator of Lambslide — May 6, 4:30 p.m.