Jason Reynolds believes kids who think they hate reading "don't actually hate books, they hate boredom." So he has made a pledge to his young readers: never to write boring books. His plan is working so well that not only have his novels become favorites among kids and teens everywhere, but they've been honored so many times we can't fit all the awards in this intro (a Newbery Honor, the Coretta Scott King Author Award, and a finalist for the National Book Award, to name just a few). Lucky for Nashville, Reynolds is coming to Parnassus on Tuesday, April 10, 2018, to celebrate of the release of his two newest books: Sunny and For Every One.
Sunny is the third novel in Reynolds' critically acclaimed Track series. Despite his name, Sunny is a kid with a lot of challenges, and when he decides he wants to quit the one thing that serves as a bridge in his relationship with his father, he has to reinvent himself. For Every One is a letter to every person, especially every young person — a poetic invitation for kids to dream big dreams, no matter their circumstances, and to believe they can achieve them.
Reynolds recently sat down with his friend and acclaimed YA author, David Arnold (Kids of Appetite, Mosquitoland, and the highly anticipated Strange Fascinations of Noah Hypnotik, available for pre-order now — mark your calendars for May 22, when David visits Parnassus!). Here, the two discuss where Jason's stories come from, his writing habits, and the courage it takes to dream.
---
DA: Jason. Dude. It has been a year for you. From killing it on The Daily Show and CBS News to a FaceTime session with Queen Latifah to the ALA awards and all the well-deserved accolades Long Way Down received. Has there been a single 2017 memory that stood out above the rest?
JR: Thanks man. It's been a wild time. Honestly, if I had to pick a moment, it would be one of the quiet ones. I also put out Patina last year, the second book in the Track series. And the pressure was on, because Ghost had been such an unexpected success and this was my first time writing a young woman protagonist. And not only is the book about Patina, but ninety percent of the characters in the book are women and girls. And to get reviews from readers saying they thought it was better than Ghost . . .that REALLY meant the world to me. It felt like a feat, not just for my career, but for my humanity.
DA: I've read For Every One three times now and can safely say it is one I will come back to often. ("… this road less traveled has in fact been traveled by more suckers than you think." Preach, Reynolds.) In the author's note, you write that this book is something you've been working on for years. Do you remember when exactly you began writing it, and why?
JR: Man, thank you so much. This book is super personal because its origins are rooted in my feeling of failure and self-doubt. I started writing it after I quit writing. What a lot of people don't know is that I was lucky enough to publish a book a long time ago with Harper Collins with my dear friend Jason Griffin. But it flopped. And when it did, I couldn't seem to get back in the game. So after several attempts, I decided to let it go. Dream . . . over. I was only like 25 which now seems laughable. But at the time, I felt defeated. So the process of writing it began with me licking my wounds, and evolved into me understanding that maybe I had it all wrong. That the gift is in the dream itself, not necessarily in the fruition of said dream. The courage it takes to have a dream . . . is the actual freedom of it all. That's the gift. That's all I wanted to say, not to anyone else, but to myself. Funny thing is, I finished writing it just before When I Was The Greatest was signed, and my career began again. Life.
DA: You're one of the most productive writers in the game. What does an average writing day look like for you?
JR: Wake up at 6 a.m. Write from 7 a.m. to 2 p.m. (when I'm not traveling), then go to the movies. Every day. I treat it like any other job, with the movies as my "train ride home."
DA: I come from a music background and credit Elliott Smith with teaching me that an honest voice is more compelling than a pretty one. You've been very vocal about the influences of hip hop and rap in your own writing — can you talk a bit about the musicality of language? And do you find writing in verse is a more direct line to that music?
JR: Oof. Tough question. But a good one. You know, I truly believe that the best writing is musical. That there's a rhythm, a meter, to language. And part of the reason I feel like that is because of hip-hop, for sure. BUT I also attribute some of that to blackness. People who know me know that I love hip-hop, but I'm also proud of the culture that birthed it. Because it's the culture on a whole that feels musical to me. The old men I grew up around and the way they walked in rhythm and talked in rhythm. The church ladies with the hats and tambourines. The house parties, block parties, family reunions, barbecues. There's gospel and blues and jazz and funk to us. There's a pulse to it all, a music that feels woven into the cultural psyche. It's hard to describe. But it's easy to feel. And the feeling hopefully comes through in the work, whether it's prose or verse.
DA: You were the official 2017 Spokesperson for Indies First. Can you talk about the importance of independent bookstores and the role they've played in your career?
JR: If it wasn't for independent bookstores and booksellers (along with librarians) I wouldn't be here. We all need people to take chances on us. To roll the dice. And the indies bet on me. And I'm forever grateful for them. Simple as that.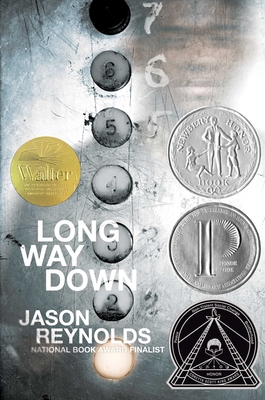 DA: Your writing fluctuates so effortlessly from middle grade to young adult and back again. (Long Way Down earning both a Newbery Honor and a Printz Honor being a testament to this.) Do you find that your voice feels more at home writing for one age group or the other? When you begin working on something new, is it a conscious decision to write for a specific age group?
JR: I always know who is speaking. I know what they sound like. Sometimes their voice feels young, sometimes it feels a bit older. I just let it flow and trust my gut. If I'm listening, it can settle into it pretty easily. And because it's coming from me — truly coming from slivers of previously dormant parts of myself — it always feels . . . normal. Natural. Writing for me is often like dancing. I listen, hear the music intellectually, then listen with my body, then listen to my body . . . and move. Doesn't matter the music. My body knows how to catch the rhythm. That's what writing is like for me.
DA: To close out, I'd love for you to pick one book — just one, any genre — that you think everyone should read, but that doesn't get the attention it deserves.
JR: Sons of Darkness, Sons of Light, by John A. Williams. I was going to say Salvage The Bones by Jesmyn Ward . . . but she's pretty much a superstar. Ha!
 * * *