Summer break is so close we can almost taste it! And you know what summer means? Loads of fabulous new book releases for young readers. Little ones, big kids, and young adult fans will all delight in this new batch of school's-almost-out titles. Read on to the end, too, to find a sampling of upcoming in-store events.
(Oh — and you know what makes the easiest and most joyfully received teacher gift ever? A gift certificate to Parnassus Books. Come grab a stack and hand 'em out like apples.)
Here we go:
PICTURE BOOKS
Recommended by Everyone
It's here! It's here! And we have signed copies. This is the first picture book in the series of collaborations between illustrator Robin Preiss Glasser and our very own Ann Patchett. It's every bit as adorable as you'd expect.
Recommended by Katherine
Ernestine is five years old and a big girl, a fact she hollers out her window into the Great Smoky Mountains every day. Will she be careful and brave enough to deliver two jars of milk to the neighbors? You'll smile at the clever ending, and the art alone is worth the price. Each page is a masterpiece.
Recommended by Rae Ann
Lyrical text paired with beautiful illustrations make this picture book perfect for reading and rereading.
Recommended by Katherine
A tough and honest look at what deportation does to regular families. Maricela's all-too-common experience is a child's realistic perspective of what many families face. The illustrations aren't just gorgeous; they hum with life and hope.
Recommended by Chelsea
Set against a beautiful desert backdrop, this is the story of Hank the grumpy cactus who reaches out with an act of kindness. This sweet and thoughtful book will make anyone want to hug Hank!
FOR INDEPENDENT READERS
Recommended by Chelsea
Growing up is hard, but it's especially hard this summer for Delsie as she struggles with growing apart from her best friend and trying to determine the real meaning of family. Readers will relate to Delsie, hoping right along with her that everything will work out for the best.
Recommended by Rae Ann
December believes she's a bird, anticipating the day wings will shoot out from the scar on her back. Life with her new foster mother is nice, but will she be happy if her destiny doesn't carry her to the skies? The characters are realistic and leap off the page.
Recommended by Katherine
Paulie Fink is Mitchell School's epic prankster and legendary class clown. When he doesn't return to school after summer break, everyone wonders why. A reality-show-like contest begins for the search of The Next Great Paulie Fink, and Caitlyn, the new girl, is made judge! Can she navigate a new town, new classmates, and running a contest about a kid she's only ever heard tall tales about?
Recommended by Kay
This story uses a little bit of fantasy to explore some very real emotions, while also taking time to highlight how magical nature itself can be. There's real empathy here for any kid who's ever tried to bottle up their feelings.
Recommended by Devin
The sisters that Louisa May Alcott introduced in the classic Little Women are making their graphic novel debut! Meg, Jo, Beth, and Amy are having a tough year; their dad is serving in the military, their mom works long hours, and the girls are fighting to stay strong. They lean on each other and teach each other important lessons in this beautiful story about family.
YOUNG ADULT
Recommended by Sarah
This tremendous debut is about a young girl bearing the weight of grief and uncertain identity. Biz grapples with dissociation and depression as she faces her father's death head-on for the first time. This is one of the most accurate and sensitive portrayals of mental illness I've ever encountered in a novel.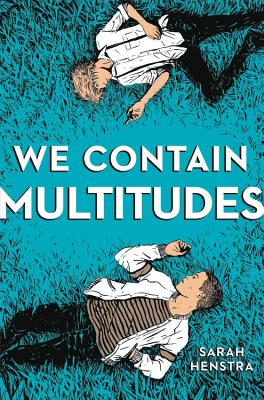 Our May ParnassusNext selection is Sarah Henstra's We Contain Multitudes, an exhilarating and emotional novel about the relationship between two very different boys, Jo and Kurl, told entirely through the letters they write to one another. It's an exquisite read, perfect for readers who loved I'll Give You the Sun and Aristotle and Dante Discover the Secrets of the Universe.
Here's just some of the praise it's received:
"We Contain Multitudes is an emotional journey, both heartbreaking and healing. A true love letter to the way family, friendships, and first loves slowly peel away our carefully constructed walls to the layers beneath. Henstra's words are a universe I never want to escape."
–Julian Winters, author of Running with Lions
"This is an absolutely extraordinary work of fiction that illustrates how artful epistolary novels can be. Kurl and Jo are characters to die for, emotionally compelling and empathetic. Their quotidian lives are riveting and their story unforgettable. At one point, Jo describes a novel he's reading by saying, 'I can't even summarize the plot; it's that strange and sad and marvelous a story.' There's no better way to describe Henstra's own novel. It is not to be missed."–Booklist, starred review
ParnassusNext is the book subscription box for YA lovers. Every member of ParnassusNext receives a first edition hardcover of each month's selected book, signed by the author. There is no membership fee to join — and no line to stand in for the autograph. Not only will you have one of the best YA books of the month when it comes out, you'll have it straight from the author's hands, with an original, authentic signature! Set up a subscription for yourself or buy a gift membership for your favorite YA reader for 3, 6, or 12 months.
School or no school, we've got a standing date with story time. Come see us each Saturday at 10:30 a.m. and Thursday at 4 p.m.!
And don't miss this incredible lineup of YA authors headed our way. All events are here at the bookstore unless otherwise noted:
Laure Eve, author of The Curses — May 14, 6:30 p.m.
Breeana Shields, author of The Bone Charmer — May 23, 6:30 p.m.
Meredith Russo, author of Birthday — May 31, 6:30 p.m.