"When a person dies, a casserole is born." That's according to Garden & Gun magazine, which gave rave reviews to The Southern Sympathy Cookbook: Funeral Food with a Twist. As the title of this new book by Memphis-based writer Perre Coleman Magness indicates, this is no catch-all cooking guide. Magness, whose last book offered 50 different pimento cheese recipes, has a knack for zooming in for a close look at a distinct food group. This time it's recipes for food you can take to friends, family, and neighbors when it's time for that unique cultural experience — the Southern funeral. (Bonus: You'll also get spot-on observations about Southern traditions and excerpts from unexpectedly funny obituaries.) That got us thinking about other super-specific cookbooks we love.
We're delighted that Magness will visit Nashville this Wednesday, February 28, to sign and discuss her updated guide to traditional comfort foods. Meanwhile, here are some of our other favorite books that focus on one precise subset of the culinary experience:

Eggs, by Blanche Vaughan — It's the name of the cookbook and the main ingredient of every recipe therein.

Pok Pok, the Drinking Food of Thailand: A Cookbook, by Andy Ricker, JJ Goode, Austin Bush (Photographer) — Wondering what snacks to serve for a Thai-style happy hour? This book takes a deep dive into a category of Thai cooking most Americans haven't experienced.

Federal Donuts: The (Partially) True Spectacular Story, by Dorothy Kalins Ink, Michael Solomonov, Steven Cook— All donuts, all the time. Learn how to make flavors including strawberry lavender, guava poppy, and pomegranate Nutella.

Soup for Syria, by Barbara Abdeni Massaad — Award-winning cookbook writer Barbara Massaad enlisted the help of culinary superstars including Alice Waters, Anthony Bourdain, and Mark Bittman to contribute recipes for one thing: soup. Proceeds from the book's sale benefit a variety of refugee-assistance organizations.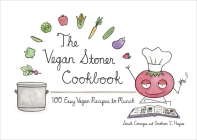 The Vegan Stoner Cookbook, by Sarah Conrique, Graham I. Haynes — This cookbook sits at the center of a very specific Venn diagram.

American Cake, by Anne Byrn — If you're looking for pies, cookies, or puddings, keep moving. This book is all about cake. American cake.

Fifty Shades of Chicken, by F. L. Fowler — For a particular group of readers and chefs: those who love chicken, cookbook parodies, and a certain book-to-movie series.

Sorghum's Savor, by Ronni Lundy — An exploration of the savory-sweet ingredient unknown to much of the world but beloved by Southern cooks.

The Bloody Mary, by Brian Bartels — A whole book about the drink that almost counts as a meal.

Martha Stewart's Vegetables, by Martha Stewart Living Magazine — One food group: vegetables. And not just anyone's vegetables . . . Martha Stewart's vegetables.

5-Minute Mug Cakes, by Jennifer Lee — Not cakes you bake in a pan. Not cakes that take an hour. Cakes you make in a mug in five minutes. It doesn't get more specific than this.
Want more? Come visit our cookbooks section, which holds more delicious surprises than a pita pocket. Meanwhile, we hope you'll join us this Wednesday!
The Southern Sympathy Cookbook: Funeral Food with a Twist
A Cookbook Signing Event with Perre Coleman Magness
Wednesday, February 28, 2018 – 6:30 p.m.
Parnassus Books
This event is open to the public and free to attend!
 * * *