First, a disclaimer: If you're a family member or close friend of one of our booksellers, you might want to glance away for a minute. Otherwise, you may find out what you're getting for Christmas.
OK, now that it's just the rest of us: Here it is — the list made by our staff of books they love so much that they're giving them to their loved ones this holiday season! See a few that might work for someone on your list? Just click the titles to toss them into your cart. We'd be happy to wrap them (free!) and either hold them for you at the store or ship them to you or your recipients.
Can't-go-wrong gifts for book (and bookstore) lovers: 
Know someone who makes it a point to visit local indie bookstores when they travel? Here's their bookstore bucket-list, filled with charming illustrations and anecdotes that give a window into what makes these stores distinct. (Oh, and Parnassus is included, too!) Get an extra copy or two, so you have enough to give whomever you remember at the last minute. – Karen Hayes
Perfect for readers of all genres. The kind of beautiful book that surprises and delights on every exquisite page. – River Jordan
The gift of fiction — for anyone looking to get lost in a great story while traveling to visit (or hiding in a pantry to avoid) loved ones at the holidays:
Those who love good storytelling will find Michael Chabon's new book right up their alley. Told from the point of view of a writer interviewing his grandfather (is it Chabon and his own grandfather? Read about that here), it draws out the tale of a dying man's previously enigmatic life. It's a story of bravery, mistakes, and great love. What more could you want?  – Karen Hayes
In a story set largely in San Francisco during the height of the AIDS epidemic, Satan and Death battle it out for the narrator's soul. This book is radiant with rage, intelligence, sex, and memory. It is rough, important, and utterly worthwhile. Give it to anyone you think is up for it. – Ann Patchett
Zadie Smith wrote a new book. You know the drill: give it to everyone. – Lindsay Lynch
Longlisted for the National Book Award this year, this book belongs on every best-of fiction list of 2016. It's about a family with a history of depression, but because it's also a love letter to familial bonds and has lots of unexpected humor, it's not nearly as much of a downer as you might expect. Give it to discerning readers who love literary fiction (or anyone who likes to savor great writing), plus a pencil for underlining. -Mary Laura Philpott
Get this for anyone you to whom you have previously given All the Light We Cannot See. They will love it. – Niki Coffman
This "little book with a big heart" by the author of A Man Called Ove can be read in a short time, but its message of how precious people really are will stay with you for a long time. A wonderful and heartwarming gift for anyone. – Kathy Schultenover
Brilliant, acclaimed, contemporary short stories for the person who is most likely to be found upstairs reading at your holiday party. – Halley Parry
For everyone who hasn't read it yet: This family saga follows the descendants of two half-sisters in Ghana who end up on opposite sides of the slave trade. It is magnificent, transporting, and expertly done. Do yourself and everyone you know who loves good fiction a favor and grab a copy. – Catherine Bock
Set in 1920s New York, this novel is packed with family secrets, a love triangle, and plenty of drama. The Jazz age is brought to life in the pages of this retelling of Richard Strauss' Der Rosenkavalier. Intriguing and FUN. – Jackie Gregory
As always, we offer signed copies of all of Ann Patchett's books, including her new novel, the #1 New York Times bestseller, Commonwealth.
For many more fiction selections, click through back issues of our Staff Picks on Musing — and check our selection of signed books, too!
For those who prefer their stories true:
I bought this extremely substantial book for my husband, who loves obituaries, and I can't stop reading it. Henry Ford! Walt Disney! Vladimir Horowitz! Sartre! Sontag! Each obit is a perfectly crafted narrative. Read together, you are rewarded with a history of the world, at least a world as old as The New York Times. – Ann Patchett
Custer was a man of his times — for better, but a lot of times, for worse. Stiles does a fantastic job of capturing the gray areas and all-too-human pitfalls of Custer and those close to him. Give this one to the history lover in your life. – Catherine Bock
This holiday season, like every holiday season, you should give the gift of Ruth Bader Ginsburg. I am. – Lindsay Lynch
For the twenty-something woman (or man!) in your life who feels strongly that the work Steinem and her contemporaries began is not finished. Now available in paperback. – Catherine Bock
For those who just can't get enough of the mythical Mitfords. I can think of a few people to give this one to. – Mary Laura Philpott
Art-lovers and history buffs alike will be fascinated by this surprising look at the personal torment and global upheaval behind the creation of a piece of art that, to many, represents tranquility. – Andy Brennan
For friends and family seeking to stretch their perspective and understand others better (we're looking at you, Uncle Mike):
Ferris is a lifelong student of Southern culture, and a pretty good photographer to boot. Take a gander — all our copies are signed! – Tristan Charles
In this collection of essays, some of the most important voices of our time tackle issues of race in the United States. These pieces are ever relevant, poignant and moving. – Halley  Parry
Our manager, Andy, also recommends . . .




Uplifting and quirky, for thoughtful souls — or anyone who might need a lift:
Looking for a great gift for a creative person?  This collection of irreverent and inspiring quotes comes from some of the greatest artists throughout time. Take a close look and you may just end up buying it for yourself. – Karen Hayes

I am giving this to myself because I need a good love story, I need the enduring wisdom of activists and thinkers and poets of the ages, and I need the strong medicine of a thoughtful book for the cold winter coming on. – Margy Roark
Gain calm and clarity from contemplating classic and lesser-known works of art. – River Jordan
Here is the perfect book for that one friend for whom you need to get a gift but cannot for the life of you think of what to give. Slim, original, and beautifully imagined, buy a few and dole them out as fail-safe last minute gifts for anyone on your list! – Katherine Klockenkemper
Short sermons from the bard of courage, moral vision, spiritual transformation. With hope for peace and tolerance, I'm giving this to all my red, blue, and green relatives. Shalom, y'all. – Margy Roark
Cartoon animals. Interesting facts. Who wouldn't like getting this in their stocking?? – Mary Laura Philpott
For the person you rely on for delicious home-cooked meals:
Give this book to the bakers in your life! It's perfect for beginners and foodies who spend all their free time in the kitchen. – Rae Ann Parker
For the humble chef. This cookbook takes you on a journey through Appalachia with stunning photographs and southern recipes that, no matter where you live, will transport you to an Appalachian kitchen. – Halley Parry
I want to give this book to everyone I know, because it has truly changed my life. Spare and poetic, this book shows us how to cook and live more simply and gracefully. It's basically a cookbook that could also belong in a self-help section. What's not to love? – Katherine Klockenkemper
Katherine Wilson went to Italy to intern at the US Consulate in Naples. After unexpectedly falling in love with a man named Salvatore, she learns about food, cooking, and how to navigate family relationships in a new culture. Perfect for anyone who loves Italy, Italian food, or funny family stories. – Jackie Gregory
If it's good enough for Jeffrey, it's good enough for me. (Confession: sometimes I read Ina Garten's cookbooks without actually cooking from them. I find the photos very soothing.) – Mary Laura Philpott
For those who like to know a little about a lot: hobbies and special interests —
For anyone who likes to dream, this is a wonderful collection of essays from a terrific lineup of writers who have been around the world. Lonely Planet always does a first rate job and this volume is no exception. – Ann Patchett
I'm tucking a copy of this hilarious (and informative!) craft guide in the stockings of all of my lady friends. – Niki Coffman
You have to see (and touch) this glossy, three-dimensional cover to believe just how gorgeous it is. This work of art would be at home on any plant-lover's coffee table. – Mary Laura Philpott
What will you do with the living room once the tree is down and the wrapping paper is cleaned up? Beautiful photos of real interiors make perfect fodder for daydreaming. – Mary Laura Philpott
The atlas to end all atlases. This is the most fascinating compendium of fascinating places ever compiled. – Tristan Charles
For anyone who needs a little inspiration in their lives, look no further than the hundreds of interviews curated here by Grace Bonney. I randomly started flipping through this book the other day—I looked up, an hour had passed, and I felt like I had just gotten the world's best pep talk. – Lindsay Lynch
(I totally second this recommendation. This book is a FABULOUS gift for any female business owner or creative person. – Mary Laura Philpott)
(I third this recommendation and would like it known that I picked it before Lindsay and Mary Laura. – Andy Brennan)
(Sure you did, Andy. – Lindsay and Mary Laura)
Peter Wohlleben is a forest ranger who has written a book that is the perfect mix of science and his own observations. The perfect gift for that person in your life who wouldn't mind wandering in the woods. – Halley Parry
They're good dogs. – Lindsay Lynch
This shiny silver stunner looks like it's meant for children, but the gorgeous art inside makes this a perfect gift for anyone on your list with refined taste. – Niki Coffman
For football fans who like reading, too. – Andy Brennan
For golfers just trying to hang on until spring comes back around. – Andy Brennan
For the friend with a late-night TV habit: 
This oral history is an endearing and refreshing break from the political malaise in which we live. Jon Stewart forever! – Tristan Charles
This is the must-have companion to the funniest show on television. With a foreword by Christian Slater and interviews with the creators, cast, and animators, you'll soon know more than Pam! – Tristan Charles
I love Trevor Noah — and his new book about his childhood, family, and life under apartheid in South Africa. A captivating read for people who love biography, history, and/or The Daily Show. – Ginger Nalley
For the lifelong rock-and-roller: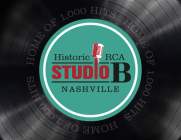 For the Nashville history buffs and music lovers in your life, pick up this new book filled with photos and stories about the iconic studio where one thousand American hit songs were born. – Rae Ann Parker
And on that note, Andy also recommends . . .
 



For your friend, the former English major:
Everyone complains about poetry, but no one does anything about it — except for Billy Collins. His poems are smart and accessible, funny, friendly, and edgy. If you know someone (or are someone) who loved poetry once, this is the perfect place from which to jump back in. – Ann Patchett
The perfect stocking stuffer for grownups, this is not just a collection of stunning poems, but full renderings of the envelopes that they were scribbled on and left behind by Emily Dickinson. – Halley Parry
Give this to your poetry-loving friend who would like to delve deeper into poetry world. Heaney is the most tender-hearted, clear-eyed guide in this world. He says that our words and the truth they hold matter. He says, "The end of art is peace." – Margy Roark
For the person who eats local and shops local — they might as well go a step further and read local, too: 
Nashville: The South's NEW Metropolis
By Karl Dean, with Michael Cass (Foreword by Megan Barry)
Put together by former Nashville Mayor Karl Dean and my favorite former Tennessean writer (and a Sewanee grad) Michael Cass, this is a brand-new Nashville book and you can get it here in the store! – Sissy Gardner
Delmez, a curator at Nashville's Frist Center for the Visual Arts and a member of my book club, has put together this stunning book, just as she curated Smith's show at the Frist this winter. What a cool gift for a Nashville art-lover! – Sissy Gardner
One signed, first-edition, hardcover new release every month — straight from the author's hands to yours (or your lucky gift recipient). Select a 3, 6, or 12-month prepaid membership and we'll send your favorite book-lover an extraordinary title each month, selected by our expert booksellers. There's no membership fee to join!
Need more ideas? Stop in anytime and let us help you pick out something perfect for your step-dad, aunt, teacher, BFF, neighbor, frenemy, mentor, and siblings. We love a challenge!
Coming up later this week: The Big List, Part Two — Books for Young Readers!